Until Nike, Adidas, and Puma make dress shoes, those kicks won't slide for every occasion and it's better to incorporate dress shoes in your wardrobe now rather than to scramble rushing to the store last minute to figure out what you need later on down the road. It's about time King. It's about time you build your professional dress wardrobe. With that said, you should start from the ground up. Oh, what? You say you don't know what to get? Say no more! I feel as though there are 3 essential dress shoes every King should own. To make it simple, I categorized them so you can get a sense of the occasion and purpose for each of these must-haves. Professional, Stylish, and Casual. These 3 dress shoes will get you through job interviews, weddings, and days where you want to dress down but still pull off a mature look.
---
Professional
---
Black Leather "Cap Toe" Oxford
The "Cap Toe" is characterized by an additional piece of leather stitched on the toe box of the dress shoe. These classic yet sophisticated dress shoes deliver a minimalistic silhouette. This shoe works perfectly dressed up in a well-tailored black or grey suit in a business professional setting. Black Cap Toes are a globally popular dress shoe and are considered a shoe where you can never go wrong.
---
Stylish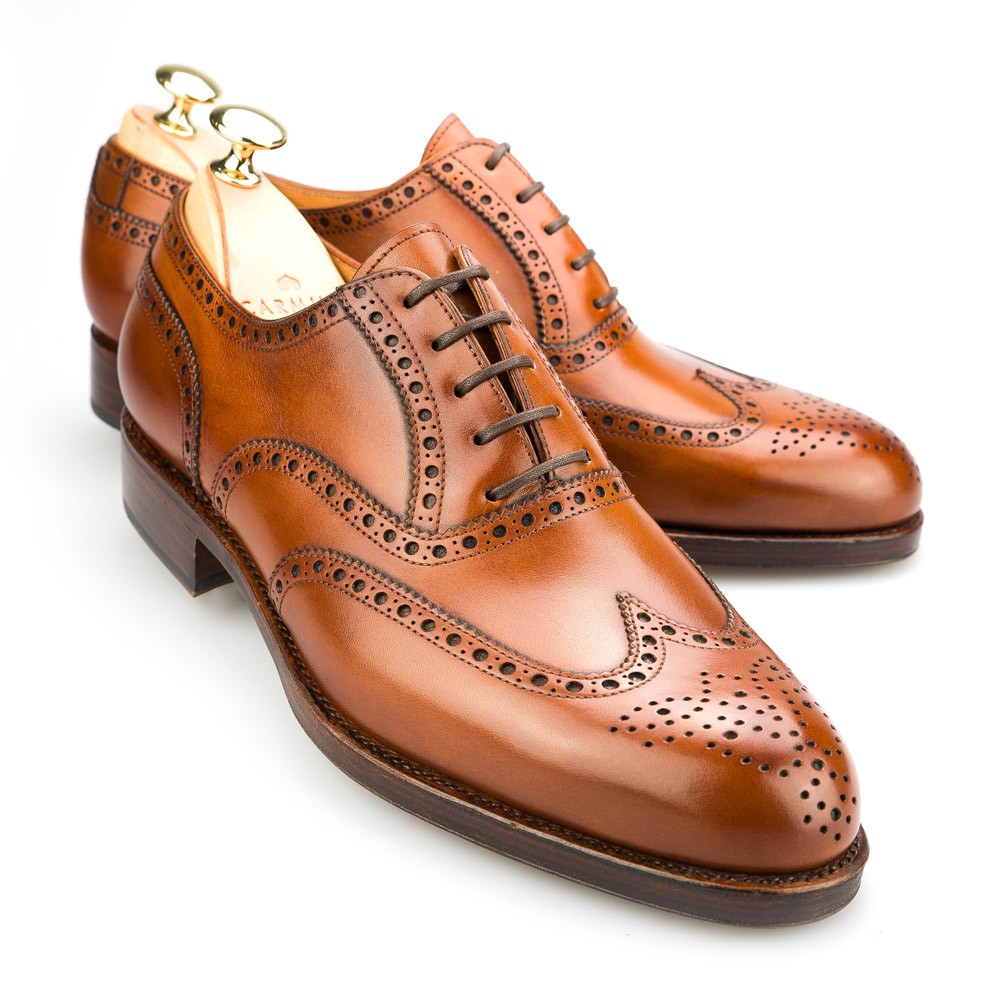 ---
 

Cognac Leather "Wingtip" Oxford

The Wingtip can be distinguished by the additional layer of leather in the shape of a "W" located on the toe box. These shoes are usually made in a brogue style. The Brogue is the perforated holes and decoration along the edges of the leather layers. Wingtips add an extra sauce packet to your style. They are supremely versatile because of the cognac color that compliments any suit and can create a nice fit combination with a pair of denim. A great alternative stylish dress shoe is a Black or Cognac Double Monk Strap.
---
Casual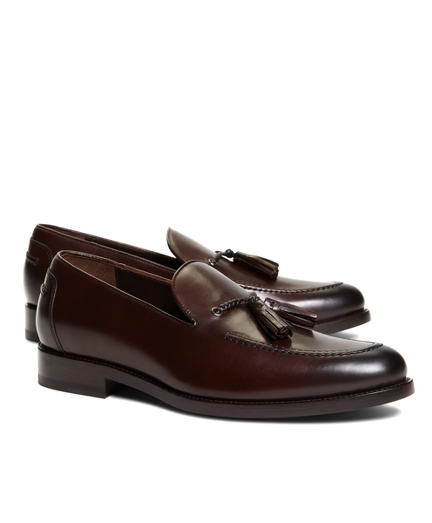 ---
Dark Brown "Tassel" Loafer
The Tassel Loafer is a very distinct type of dress shoe. It separates itself from the average dress shoe due to the fact of the loafer style. Loafers are a lace less shoe, that exposes the ankle and is usually comprised of leather or suede. The Tassel Loafer, in particular, has two tassels embedded on the vamp of the shoe. There are many different types of loafers any type of loafer would be able to suit a casual look. Tassel loafers provide the ultimate casual, spring/summer vibe to them. They aren't built for a job interview setting but they fit well in a BBQ setting and a business casual day in the office. Loafers can be worn with dress pants, denim, or even shorts if you want, they provide an extensive variety of outfits.
If I were to restart the process of building my dress shoe collection, I would start with these 3 killers, without a doubt. These shoes will have you confident and fresh in all business casual, business professional, and casual situations. These are essentials because of their versatility. You can wear either of them with some slacks or jeans. If you are just starting your collection or need to obtain the essentials, BAM! There you go.
Thank you for reading Kings, I would appreciate if you like, share, and write any questions, comments or concerns down below!
-Sir Highsmith
---